Ever since Prince Harry and Meghan Markle announced to the world they were having a baby, people have wanted to know as much about it as possible. Even though they kept people waiting, Prince Harry was delighted to announce to the world that he and Meghan had a little baby boy. Archie Harrison Mountbatten-Windsor was born on May 6, 2019, to the delight of royal fans everywhere.
Eventually we all got a glimpse of Archie just a couple of days after his birth, but then he was shut back inside again. Then, after weeks of waiting, Meghan and Harry announced that Archie would be christened in July. Now we knew we were going to see the young royal again in official family photographs.
Meghan and Harry didn't disappoint, and the family portrait was released for everyone to see. They delighted many people, and thrilled royal fans began reacting to Archie's christening photos.
Babies
Parents know when they have children that they're going to resemble them pretty closely and people began to wonder if Archie would look more like his mom or dad. One feature of Harry's that stands out more than most is his ginger hair, so people want to know if his son is going to have the same hair as his dad.
Straight after his birth, it was hard to know who Archie resembled more, but as he's getting older, his features are becoming more defined. The christening photograph was the first real opportunity that people had to see whether the latest addition to the Royal Family was more like Harry or Meghan.
The christening
Archie was christened in the private chapel at Windsor Castle, a place that the Queen uses as her own place of worship. The press was not invited to the big event and instead had to wait for the family to release the official photographs to get a good look at Archie.
Everyone was kept waiting as the family took their time in releasing their photographs of Archie's big day. When William and Kate's children were christened, the ceremonies were private, but the media were invited to come and take pictures of them. Harry and Meghan have opted to keep the entire thing public and hope to keep Archie shielded from the media as much as possible.
The godparents
There was more secrecy surrounding Archie's christening as Harry and Meghan have refused to disclose who they have chosen as Archie's godparents. Typically, royal children have several people to call their godparents, and it's thought that Archie will have a similar amount.
The identities of these chosen few have not been revealed, and it remains a mystery over who will be keeping a close eye on Archie as he grows up. Perhaps Harry and Meghan will feel comfortable announcing the godparents at a later date, as they have so far chosen to leave people waiting on news about Archie. Not knowing the godparents was just another detail of Archie's christening that was kept secret from the public.
Missing guest
Although Archie has just become the seventh in line to sit on the throne, his great-grandmother the Queen wasn't present on his big day. The Queen had other engagements on the same day as Archie's christening and chose to honor the commitments she made.
If Harry and Meghan had truly wanted the Queen to appear at Archie's christening, they probably could have chosen a different date for it. As it turned out, there was a big personality missing from the ceremony, but that's not anything new for the Royal Family. When Prince Louis got christened, the Queen missed that ceremony too, so Archie is in good company when it comes to missing the monarch.
Harry?
The first comparison people made was that Archie looked a lot like Prince Harry. From the picture of Archie with his family surrounding him, it seemed as though his hair is looking a little bit ginger. Harry was pretty much always ginger-haired, and although his hair is quite fair, it looks like Archie is following in Harry's footsteps.
It also helped that Archie was wearing a replica of the same gown that Prince Harry was christened in, so he looked even more like his dad at that age. Maybe his hair is golden, or perhaps it was the reflection from the fancy gown that made us all feel as though his hair was like his dad's.
Meghan?
Other people could look at Archie and see more of Meghan than Harry. He looks as though he's got his mom's eyes and maybe even her nose too. His vacant stare suggests that he might not be able to replicate his mom's acting talents, but she's got plenty of time to train him up.
People on reacting on social media though Archie looked pretty cute and that he was the double of his mom. No matter who he resembles more, Archie has some good genes.
Expressing joy
The family released another picture of Archie from his christening, and this was just of Harry, Meghan, and their newborn. A spokesperson for the family said Harry and Meghan were overjoyed to share the happiness of this day.
The happy couple thanked everyone for their continued support before adding they felt fortunate to spend the day with family. They also said they spent it was Archie's godparents, but didn't give any further indication about who they might be.
Lining the streets
Fans of the royal couple were lining the streets in the hopes of getting to see a glimpse of Archie on his special day. Harry and Meghan kept him under wraps though and the only sighting of Archie that anyone got that day was the official photographs.
That didn't dampen people's moods though as they held banners aloft with christening balloons and some people even brought along cake to celebrate. Archie is already a fan-favorite with the British public even though he's only a couple of months old.
William was there
There was a pretty impressive guest list at Archie's christening, including two future kings. Prince Charles was there with his wife Camilla, while Prince William came along supported by his wife Kate.
The photograph that was released that day didn't do anything to dampen the rumors of the falling out Houses Sussex and Cambridge have had. The Duke of Cambridge had a pout on his face that suggested he really didn't want to be standing in that room with Meghan and Harry.
Diana's sisters
Princess Diana was a woman of the people who was adored by the British public. It would have been heartwarming to see that her family hadn't been forgotten on this special day and both of her sisters were included in the official family portrait.
Prince Harry was reportedly very determined to have his aunties a part of the ceremony, and both Jane Fellows and Lady Sarah McCorquodale were there. Harry has remained close to his mother's family since her passing and wanted his aunts there to show it.
A public outing
Just a few short days after Archie was christened he was making his very first public appearance. Archie and Meghan accompanied Harry to a polo game, and the world got to see a little more of the newest Royal Family member.
Prince Harry was playing in a charity polo match, and for the first time in his life, he had his son cheering him on from the sides. It was undoubtedly a very proud moment for Harry and the first polo match of many for young Archie.
Family day out
It wasn't just Meghan and Archie at the polo match as Kate Middleton attending the game with her three children. Princes George and Louis were accompanied to the polo game by their sister Princess Charlotte.
For all of the rumors of a feud between the two families, this seemed to confirm they weren't as serious as people were making them out to be. Meghan and Kate appeared to be very comfortable in each other's company, albeit that they were both a little distracted by their own children.
Keeping things casual
There was no need to be dressed to impress at the polo game as both Kate and Meghan chose to keep things casual. Archie was wearing a white onesie before being draped in a blanket to protect him from the sun.
His blanket almost resembled his christening gown as the public got their first real look at Archie and Meghan together as mother and child. Meghan was seen kissing and cradling her son as she made sure to remain protective over him during the polo match.
The critics came out
It wasn't long after the images of Meghan and Archie were released that people began to criticize the way she was holding her baby boy. Some feared that she was on the verge of dropping the young royal although she didn't appear to have those same fears.
Meghan is a new mom, and it might take her a little while to get used to looking after Archie. For everyone criticizing Meghan, others were quick to jump to her defense.
New mom
People wanted others to respect the fact Meghan is a new mother, and she's just getting used to looking after her child. Parenting doesn't necessarily come naturally to everyone, and if Meghan needs a little extra time to be comfortable, then that's pretty normal.
It's hard for many new mothers to feel as though they are doing the right thing, but this situation could have been difficult for Meghan. It was the first time she was parenting in public, and she could have been nervous about the attention she was getting.
Expert opinion
Maternity nurse Lisa Clegg gave her opinion on how Meghan was holding Archie. She thought it was perfectly fine and she was doing everything you are supposed to with such a small infant. Meghan was supporting Archie's bottom and the top of his back just in case Archie's head popped back as babies often do.
Clegg thought Meghan was holding Archie in a very protective manner and perhaps the strange position was because she was feeling the eyes on her. Meghan wanted to shield Archie from any unwanted attention.
Getting a good look
It seems that Archie has already made a friend in the family as Prince Louis was enjoying himself around his new cousin. Louis was pulling faces at both Meghan and Archie, which put a smile on Kate's face.
The two moms seemed pretty happy hanging out with each other, and Louis showed his adventurous spirit as he made a dash from Kate. Luckily the Duchess of Cambridge was paying attention and grabbed Louis before he managed to get himself into any mischief.
Harry vs. William
The polo wasn't all about Harry, and Prince William was actually playing on the opposite team to his brother. Sibling rivalry is never more obvious when two or more compete against each other in any kind of competition.
Even though this event was for charity, you can bet your bottom dollar that neither William or Harry wanted to lose this match. There was a big crowd for the game in which older brother William was the one left smiling as his team scored the victory.
Keeping people happy
If people were thrilled by the christening photos, they would have been delighted to see Archie making his first official public appearance at the polo. It allowed people to see Meghan and Archie as mother and son, which is all that many royal fans want.
Some of the taxes British people pay go toward the Royal Family, so people feel as though they are entitled to see them. Harry and Meghan have been enjoying Archie for long enough, and people want to see more of the new royal baby where possible.
Public outings
Harry and Meghan made a public outing without Archie when the Boston Red Sox played against the New York Yankees in London. This game was just one week before Archie's christening, so they were keeping him out of the spotlight.
It was one of the first appearances Harry and Meghan had made together since they introduced Archie into the world. The royal couple were presented with gifts from the baseball teams as they were given onesies from both MLB franchises.
A new attitude?
Harry and Meghan kept Archie under wraps as much as possible, but now that he's made his first public appearance, we're set to see a lot more of him. Archie will lead a very public life because of the fact he's seventh in line for the throne.
The more we see him, the more we'll be able to tell which of his parents he takes after the most. Although, if he has his father's red hair, it's going to be hard to see anyone else in him other than Harry.
Comparisons to Harry's christening
Prince Harry's christening was a big deal in 1984, and this photograph is what led people to seeing a lot of him in Archie. They had the same gown on and Harry's red hair was already shining on top of his head.
Archie's christening was a big event in the royal calendar as he is the most recent significant birth in the monarchy. There are a lot of expectations on Archie, but with Prince Harry and Meghan guiding him we're sure he'll deal with them easily.
Taking a step back
Isn't it just about time people stopped getting caught up in what they "think" is going on between members of the Royal family? Don't get us wrong… We love the Royal Family as much as the next person.
What's not to love, after all? The traditions that have been in place for generations, the beautiful palaces, the proper etiquette, the English pride. It's no secret that the Royal Family is a big part of our world – but to what end?
Loving the Royals
Supporting the Royal Family is a good way to show one's loyalty to the United Kingdom. But at some point one must ask themselves how deep they should be digging into certain social dynamics.
Because within the Royal Family are the people, of course. They are the ones whom we fall in love with. How could we not fall in love with Meghan Markle, or Kate Middleton, or William or Harry or the Queen herself? It's impossible.
We don't truly know them
But just because we fall in love with the Palace inhabitants doesn't mean that we can try to control their lives. When we try to decipher every little thing that they're doing, and when we try to assume we know what's going on – that's when you know we've gone too far.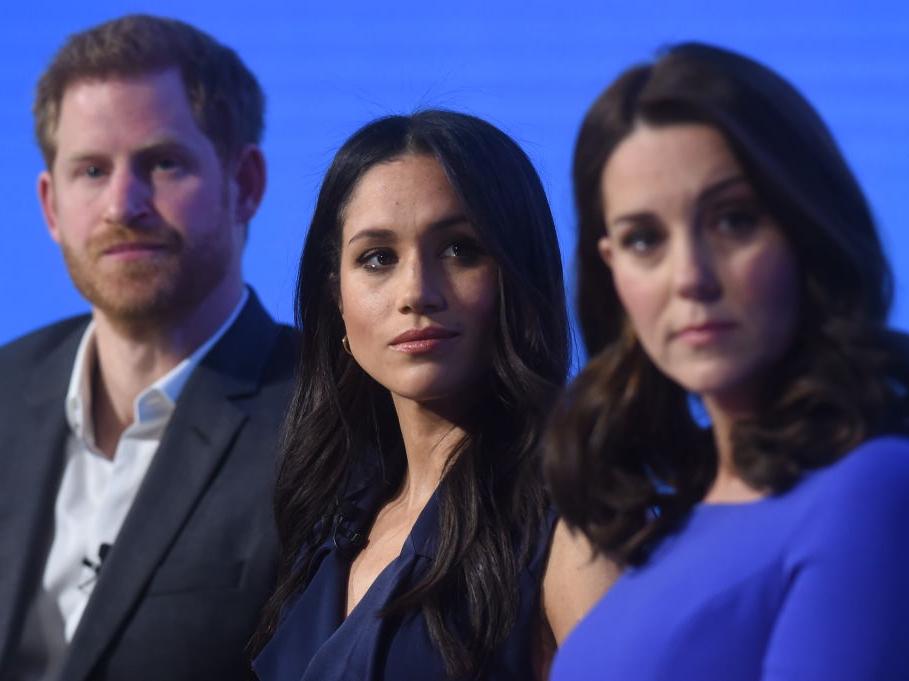 At the end of the day, these Royals are humans just like the rest of us. They're imperfect, and therefore they're bound to slip up a time or two.
Interpreting out of context
These Royals are bound to say quotes that people can interpret in a way that they didn't intend. Such is the way of life. Just like when you send a text to someone, and they think you mean one thing when in reality you meant something completely different.
It's so hard to know what a quote truly means without its proper context, and it's so hard to know what a person's expression is really conveying without actually being that person.
Mutual respect
So is there a feud between the members of the Royal Family? If you had to ask for our most blunt opinion, things probably are not perfect. But at the same time, they're not bad either.
There is probably a great amount of mutual respect that exists between Meghan, Kate, Harry, and William. A few rough patches are normal. Things happen. This is true for all people in all walks of life – so let's just chill out and smell those roses everyone keeps talking about!